---
Laser Ammo Dry Fire Practice Systems
Over the years I have seen a number of systems for dry fire practice at home. I have always promoted dry firing as a method of building mechanical motor skills that help us shoot at the subconscious level which leaves the conscious mind to find the target, put the sights on it and make the appropriate hit.
I found this line of product at SHOT this year and feel it is the answer to elevating the ability to learn from dry firing to a new level.
---
| | | |
| --- | --- | --- |
| LA110 | SureStrike 9mm Luger Cartridge | $140 |
Includes: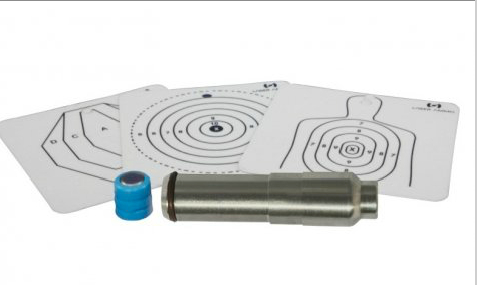 9mm Luger SureStrike laser cartridge
3 reflective targets
Battery pack

The SureStrikeTM 9mm Luger cartridge is placed into the chamber. By squeezing the trigger, the impact of the firing pin activates the SureStrikeTM to emit an eye-safe laser pulse, a shot of red light, which simulates the point of impact where a bullet fired from the firearm would have struck.
---
| | | |
| --- | --- | --- |
| LA116 | SureStrike .38/.357 cartridge, no battery | $140 |
Using one of these leaves 5 empty chambers in a 6 round cylinder, five more will be needed if you wish to have continuous dry fire sessions. Look at having some 9mm cartridges and convert them or use a .38/.357 back cap.
---
| | | |
| --- | --- | --- |
| LA120 | SureStrike .40SW and .45ACP Cartridge adapters | $60 |
Includes: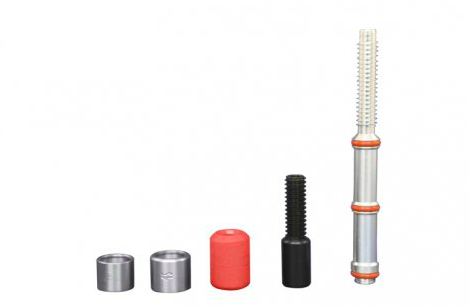 .40S&W caliber adapter ring
.45ACP caliber adapter ring
SureStrike short safety pipe - will fit all handguns with barrels from 2.9" to 4"
Safety Pipe Extension - Connects to the safety pipe to add an additional 1" length
Safety nut.

---
| | | |
| --- | --- | --- |
| LA620 | SureStrike .44 adapter | $20 |
Add this to a 9mm cartridge and your .44 revolver is converted.
No tools needed!
---
| | | |
| --- | --- | --- |
| LA630 | Dual function activator/boresight cap | $70 |
The TA/DB (Dual Function) back cap protects your firing pin as a snap cap and is a combination between the Digital Bore Sight cap and the Target Activator cap. The Target Activator cap is used to enhance dry fire practice with point of impact recognition / feedback. The Digital Bore Sight cap is used to convert the SureStrikeTM into a digitally controlled bore sight activated by trigger pull. This back cap offers you two functions in one cap. All caps are guaranteed for 5,000 shots minimum.
The transition between the two functions is done simply by holding down the primer part of the cap (with a pencil or any other similar object, even your finger) for 7 seconds. A double flash will indicate the transition between modes.
The Dual Function back cap can be used to replace any cap on all SureStrike™ 9mm cartridges and can be used with all available caliber adapters.
(excludes .38SP/357, .380, 223, Makrov and Vibration Cartridges)
---
| | | |
| --- | --- | --- |
| LA410 | LaserPET Electronic target | $160 |
Improve your shooting skills with the LaserPET Electronic target Combined with any SureStrikeTM Laser Cartridge!
The LaserPET personal electronic target improves shooting skills such as drawing, target acquisition and trigger squeeze while building a solid foundation for accuracy. LaserPETTM can be combined with any of our SureStrikeTM laser training cartridges for immediate audio, visual and numeric feedback with multiple training options.
The LaserPETTM electronic target features:


1.8"X1.8" laser sensor
Bright numeric LED display
Buzzer
Tripod and wall mounts
AAA battery operated
3 operational modes:
Hit counter - this setting will count the shooter's consecutive hits.
Shot timer / Fast draw - this timer will show the accurate time from buzzer to hit.
Speed shooting - this mode will time the shooter as if they were changing a magazine and subsequently count how many times the shooter can hit the target within 5 seconds.
Works with all SureStrikeTM TA/DF red laser cartridges and kits
Works in full room light

This item includes:

LaserPETTM Electronic target
Tripod
2 AAA batteries
User Guide

SureStrikeTM 9mm cartridge not included.

---
| | | |
| --- | --- | --- |
| LA310 | 12 Gauge shotgun adapter | $55 |
SPECIAL ORDER ITEM! May take 3-4 weeks to deliver
Laser Ammo has developed 12 gauge shotgun capsule adaptor. The 9mm Luger SureStrikeTM laser cartridge is fitted into the detachable capsule front end, which is screwed shut with the end cap. The capsule is then inserted into the chamber of a shotgun. This feature is especially convenient for police officers, who can use the same laser bullet to train with both their service pistol and shotgun.
The Shotgun adapter must be used with a 9mm Luger Laser Cartridge. The cartridge must be purchased separately, it is not included with the adapter.
Important: you do not need to use a safety pipe and nut with a shotgun adapter.
---
| | | |
| --- | --- | --- |
| LA315 | .308 Win adapter | $55 |
Converts the standard 9mm Luger SureStrikeTM into a .308 Win. cartridge. The SureStrikeTM cartridge threads into the two piece adapter sleeve ensuring accuracy and eliminating the possibility of the adapter being left in the chaimber. No tools needed.
SureStrikeTM 7.62 / 308 Rifle Adapter includes:
.308 Win 2 piece rifle adapter sleeve
---
| | | |
| --- | --- | --- |
| LA316 | .223 AR15 adapter | $70 |
The SureStrikeTM 223 for AR-15 cartridge allows you to train with your favortie rifle at home. By pulling the trigger the impact of the firing pin activates the SureStrike™ to emit an eye safe laser pulse, a shot of red light, which simulates the point of impact where a bullet fired from the weapon would have struck. Hang the included reflective targets up across a room, take aim, and pull the trigger. When you dry fire the SureStrikeTM emits an eye safe shot of red laser light. You get instant visual feedback of shot placement. This immediate feedback from the SureStrikeTM transforms regular plain dry fire into a powerful learning experience.
---
The battery pack includes: 3 packs of 3
Silver oxide dry cell batteries shrink wrapped for ease of use.
This battery pack is suitable for use with all of Laser Ammo products that require a battery.
Important: do not remove the shrink wrap from the batteries.