Call 604.889.3822
(8AM-6PM Pacific)

or send email to
DOC@mdgardner.com
DOC's Blog
---

November 4, 2012: Speed Steel Match Report

September 17, 2012: TMSA Migration Match Report

August 25, 2012: mdgardner.com Supports the Shooting Community

August 20, 2012: Thompson Mountain Sportsman Association (TMSA)

July 24, 2012: The DOC Makes a House Call

July 4, 2012: AR Mags

June 17, 2012: For Your Eyes -- And Ears -- Only Deal ends July 16, 2012

June 3, 2012: Welcome Iron Eagle Tactical

May 16, 2012: Blade-Tech Part II: Knives

May 1, 2012: Insight into Blade-Tech

April 23, 2012: COMPLETING AN AUTHORIZATION TO TRANSPORT (ATT)

April 1, 2012: Have You Got an Electric Primer Filler Yet?

March 8, 2012: A Great Price on a Great Press from Dillon

February 7, 2012: Limited Time PRE-SEASON SPECIAL

January 28, 2012: Tim at Shaw is Da Bomb!

December 31, 2011: Are You Ready for Next Year?

November 12, 2011: Shot Timer Evolution: the CED7000PRO

October 30, 2011: Have You Seen This Awesome Video?

October 6, 2011: Introducing Gun Butter

June 12, 2011: Whole Lotta Specials Goin' On

May 30, 2011: Proud Sponsor of the Shooting Sports

May 8, 2011: Brush Up on Mag Care

March 28, 2011: Lookin' Like a Good Year!

February 20, 2011: Fundraising for SLF

February 9, 2011: My Customers are the Best!

January 16, 2011: You Should Become an RO

October 10, 2010: Slick New Double Alpha RaceMaster Holsters

August 14, 2010: Welcome UpLULA Mag Chargers!

July 5, 2010: "What, HUH?"

April 6, 2010: Time to Get To Work!

March 5, 2010: WHO OWNS YOUR OLYMPIC GOLD MEDAL PODIUM NOW?

February 14, 2010: BELIEVE! GO CANADA GO!

December 17, 2009: About that PAL you have...

September 18, 2009: What's Up, DOC?

July 1, 2009: 50,000 Visitors - Thank You!

June 10, 2009: CED & SmartReloader

April 12, 2009: New Standard Div Rules

January 29, 2009: Introducing Double Alpha
---
November 4, 2012
SPEED STEEL MATCH REPORT
OK, I called the weather wrong, VERY wrong :(
Yes, it did rain on Sat for the Speed Steel match but shooting under cover took the pain away. Thanks to everyone who came out and shot and/or helped.
Thu, Brent L. and I, with some information of value from Range Officer, Mike Vincent, were able to set up the stages and prep the ranges for the match.
Saturday morning I arrived at 7:25AM to find out that the golf course gates were closed. They showed up around 7:40AM so I could access the Club site. Folks started showing up around 8AM, right on time, and registration was complete by 9AM by 17 stalwarts.
I am slowly learning how and where things are at the Club. After a bit of a treasurer hunt for the key to the generator, we found how to start it up for lights to replace the flashlights we had to use up to then.
There was some confusion about start time and a mildly late entry joined us to set the match entries at 18. We formed 3 squads and set out to shoot the stages.
The match called for 125 rounds but I suspect many used quite a few more because I KNOW no one only shot 125. Things wound down around 11:45AM and tear down went smooth with everyone pitching in to help.
You can find the results attached here. They are broken down by Division with a combined score page to see just how you did overall.
Steel Scores Nov03.12.pdf - Steel Scores CMBND.Nov03.12.pdf
If anyone who was there has pictures or video, send it along and I will try to put something together for those who missed the day.
When is the next match?
I see one scheduled for Sat. Dec01.12 at TMSA. See the TMSA page for info or bcshooting.com. Times are different for different steel matches so be certain to find the correct information.
There is a Steel Challenge Sat. Nov10.12 at Abbotsford. Come out and enjoy another great day of steel shooting while the weather still is wet.
After that, I can only give you my next match date at TMSA, Sun. Apr14.2013.
See you on the ranges,
DOC
---
September 17, 2012
Migration Match Report
As a member of TMSA, I hope to be able to provide members, and others, with information that I learn about the Club that I feel will be of value to all concerned. My goal is to provide another means of communication to the firearms community.
Enjoy and send me your thoughts to doc@mdgardner.com on what you might want me to include in the future updates.
---
MIGRATION MATCH REPORT
Sunday, Sep16.12
Every match day has greater depth than just that day. Alastair Hesp and I volunteered to do this match last Spring and were thrilled to see such support for our efforts.
The match design was drafted to follow my personal standard: I should be able to set it up by myself if no one else shows up to work. I have found that very sound reasoning over the last 35 years of doing matches.
Prior to the match, many people stepped up to help: Robert C took on stats and the fun that entails; Keith K kept us stocked with match gear such as boxes, timers, batteries, score cards, pasters, etc; Dana K sorted us out on other materials as well as access to various equipment; RW Mike V for not just access but guidance on Club processes; setup help from Brent L, Ian and Lorna H, Scott L, Jim(don't remember his last name, he came up to take out a membership at my suggestion that day and I roped him into helping for a bit:)) and Randy F. If I missed your name, I do apologize and will correct this if you remind me, thanks.
I had stapled all the targets prior to setup day and the RO boxes were on hand to prep for that match up.
On match morning Dana arrived at 7am to open the gate. I started to set up targets and had this helper give me some direction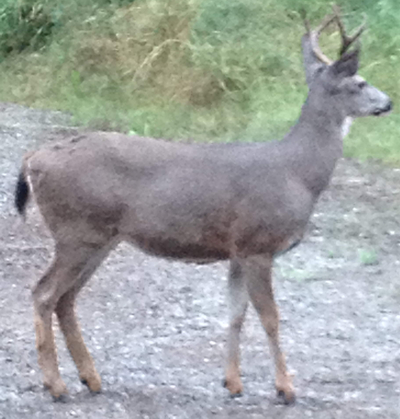 All the ranges were set and shooters started to arrive just before 8am. The grand total was 47 by the time the smoke cleared, well done and thank you!
Lots of activities take place at a match. Here a few pictures of them.
Some shots were easy
Others at 25m, not so much
All A's you say?
Lots of standing around waiting to have safe fun
Just how many people can you get in that trunk?:)
Somebody has to patch them
With registration over at 9am, shooting started. It finished and tear down was completed by 1:30pm. With 47 shooters, that is very well done. Alastair and I want to say a special thanks to everyone who helped make the end of the match easy and simple.
Rob C took on the task of stats and found the learning curve to be relatively simple with telephone support from Chris Y. There were a few hiccups w/stats but with help from Clint on the IPSC BC page, that was resolved. Bruce, Rob and I sat down in one of my satellite offices after and uploaded the results, another learning thing with Chris again saving our bacon by phone. The results were up before 3pm on the IPSC BC page and now here on DOC's TMSA BLOG. Watch for more of that in the future.
Here are the results: Migration Match Overall Results.pdf
The winners will receive cheques for their wins in the form of a cheque from the Club. I will contact the winners at the end of September to make arrangements to get your cheque to you.
For those of you wanting to see some video, go to my YouTube channel, mdgardnerdoc. I will get around to that soon. If you want to see some videos and stills sooner, email me and I will send you an invite to DropBox for the raw footage and stills.
Finally, Alastair and I want to thank everyone who came for supporting our sport and Club.
See you on the ranges,
DOC
---
August 25, 2012
mdgardner.com Supports the Shooting Community
Each year as I attend matches across Canada I have a great time visiting with friends, old and new. As always, I provide those high quality products that the practical shooting community uses. To pay back for the wonderful support my business receives, I also sponsor various events. Each event is evaluated on its merits and I look for certain criteria to determine which events to sponsor.
This year I sponsored stages at the IPSC Canada Nationals, IPSC MB Provincials and IPSC BC Provincials. The match committees know how important it is to give us sponsors exposure as that is one of the primary reasons we support the matches.
Here are some photos that show how it went down this year.
Nationals
MB Provincials
The BC Provincials are Labour Day weekend in Lone Butte, always a great time! I'll post those pictures when I have them.
I was also very pleased to receive this email from the current IPSC Canada Standard Division National Champion, Scott Penner:
Doc,
I just got home from the 2012 IPSC Canada National Championship, and just wanted to drop you a line to tell you how much your sponsorship of this match is appreciated. Without companies like yours supporting our sport, matches like this one just wouldn't be the same. THANK YOU!! DVC Scott Penner
Scott proves he is a class act, not only when shooting but when the event finishes. Be certain to congratulate Scott and all our champions when you see them.
Another person who understands the importance of sponsors is Bruce Lalonde, SC for IPSC SK. Bruce sent an email to his members giving highlights of SK members and the nationals. He then reproduced the sponsors logos and web page links.
Emails like Scott's and the efforts of people like Bruce throughout the organization who make sure that all our sponsors are recognized make it pleasant for me to continue my support of IPSC matches in 2013 and maybe even expand my efforts. My thanks to them for the good work they do to keep our sport healthy and strong.
See you on the ranges,
Murray "DOC" Gardner.
---
August 20, 2012
Thompson Mountain Sportsman Association (TMSA)
As I am a member at TMSA, I want to share information, match notices, etc. with not only other TMSA members but also shooters in general. Therefore I am posting this data to provide that service. As new match dates, courses, etc come up, I will post them here.
I have found my return to TMSA has provided me with many pleasant surprises. There are 14 ranges for use by members and the public. Day Cards can be purchased during open hours, found at this link: http://www.tmsa.net

This first notice is for all IPSC shooters to come out for an early Fall Club match, information attached here. It is my first match at TMSA and I look forward to the usual crew of enthusiasts attending and enjoying the match and facilities at TMSA.

If you want to be added to my occasional bulk mailing, send me your email address. Your address will NOT appear, it will be BCC'd. Stay in touch for more events as they develop.

Anyone wishing to take the IPSC Training Course(TC or Black Badge), see the 2012 Schedule listed on my web page

.

For anyone wanting to try shooting Speed Steel, no dates are showing just now but when they do, it is a great way to shoot multiple guns in different events. Sharpens all kinds of skills. Here is the email contact; tmsaspeedsteel@gmail.com

If you want to join, here is a TMSA membership form.

Thanks for looking and see you at TMSA!

See you on the ranges,
Murray "DOC" Gardner.
---
July 24, 2012
THE DOCTOR MAKES A HOUSE CALL TO CAMPBELL RIVER BC
I had the great pleasure of teaching and shooting in Campbell River BC after having not been there since the early 1990's. Those of you born in that period keep your jobs for us seniors collecting CPP, thanks.
I met many old friends including Don and Barb Neratini, Bob Dixon and Joe Strachan as well as meeting many new comers. They were wonderful hosts for this event.
Great weather allowed for terrific days of shooting only surpassed by the tasty pig roast with crab and prawn dinner Saturday night. You should'a been there! Match Director Drew, standing to my left, showed us just how well a skirt goes with a pistol;) Yes, I know the next question and, no, I did NOT check;)
The two matches tested not only speed but accuracy with one of the 9 stages being a 20 round steel stage of various size targets. That keeps the ego in check.
The community is blessed with support from the City as shown by the attendance of Mayor Walter Jakeway to the match and dinner. While he was there, we took a moment to introduce him to IPSC shooting. He is a great sport and has suggested ways for the Club to access funding to expand and/or improve their ranges. Mayor Jakeway is our kind of people.
After two days of fun, time to head back to Metro Van and prepare for another Island experience in Nanaimo for their two IPSC BC qualifiers. That will be followed by a return to Brandon MB for the IPSC Canada 35th Annual National Championships at the start of August. WOW! 35 years of safe and exciting shooting.
See you on the ranges,
Murray "DOC" Gardner.
---
July 4, 2012
AR Mags
Again, something new from mdgardner.com - and at an introductory price!
With the amazing growth of the Colt AR15 platform rifle, I came into one that I am dressing up. Watch for photos as it progresses and I add Iron Eagle accessories, scopes, etc.
For now, EVERYONE needs mag pouches for the pesky neutered 5-shot magazines with which we have been saddled since 1993 (10-shot if you use the handgun one). Here is the official word on that.
Yes, it is on RCMP letterhead, not just something someone dreamed up for the web. I suspect that is the same logic behind the Rem 870 and 11-87 magazine issue but I will avoid that issue for now. ;)
Where do you put the mags? Put them in our new Blade-Tech AR15 single mag pouch. They use the famous Tek-Lok system to attach to your belt to facilitate easy on/off.
#BTR110 $35 Introductory price!
OK, you aren't happy with a single pouch? Try the double pouch.
#BTR115 $45 Introductory price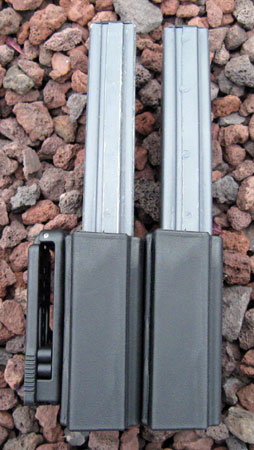 Just like the old gum commericial, double your pleasure, double your fun! :)
Watch for more exciting news from mdgardner.com as we move further into 2012.
See you on the ranges,
Murray "DOC" Gardner.
---
June 17, 2012
For Your Eyes -- And Ears -- Only
Deal ends July 16, 2012
If you find you are constantly taking your glasses and hearing protectors off because they aren't comfortable --then THEY DON'T FIT! Get ones that do fit.
First up, I have black or red SmartReloader electronic hearing protectors. These allow normal conversation and drop the db to 82 when a gun goes off. If you have never used a set, this is the perfect opportunity to treat yourself -- and who deserves it better? :) Regular price, $75, Sale price $60.
I also have shooting glasses, with frames in black, red or blue. They come with five lenses for different light conditions. Regular price $80, Sale price $64.


These are excellent prices, and I am confident that you will find them so comfortable that you forget you are wearing them. I have! ;) Along with comfort, the glasses provide endless combinations for whatever your light needs are.Available now!
Operators are standing by to take your order... OK, not really but I have always thought that would be a neat thing to say. :)
See you on the ranges,
Murray "DOC" Gardner.
---
June 3, 2012
Welcome Iron Eagle Tactical
And now for something completely different from mdgardner.com!
Like many of you, handguns are my passion but there are LOTS of other very neat guns out there. I have had a Ruger 10/22 with mods for many years. Great gun, reliable and fun. When the new SR-22 came out, I got one of those and then the bug bit. I began looking for accessories to modify it.
In that search, I came across Iron Eagle Tactical. Further research proved their product was very high quality, functional and reasonably priced. mdgardner.com now carries their line. I have started with basic items and will expand that as time goes on.
| | |
| --- | --- |
| The first order arrived and I made time to dress up my personal SR-22. The gun is box stock. | |
| This is the pile of goodies I chose. | |
| I didn't end up using the mag release or rubber rail guards, I saved them for another time. I started with the top rail. | |
| Then added the side rails: | |
| And the bottom rail: | |
| Starting to come together nicely. Time to add the Viper brush guard to plug that ugly hole at the front: | |
| On to the bipod: | |
| and then the fore grip | |
| Coming down to the finish, put on the Tri-mount and scope(that scope will be replaced once the red dot and other optical sights arrive, watch for them in the near future): | |
| In case I ever need to shoot a tin can in the dark, add a light(these fit pistols mostly but I couldn't resist): | |
| If you wanted a light more for a rifle as well as heavy duty use, try this one: | |
| OK, take those extras off, add a 25 round mag and VOILA, Super SR22! | |
How much did all those goodies cost?
$69 IE-103a Tac Top Rail
$110 : $55 each IE-106b; 2 needed, maybe three if you don't use the IE-103a Top Rail
$55 IE-106a E-Tac rail w/sling stud
$52 IE-104c Viper brush guard
$31 IE-108c UTG Tri-Rail See-Thru Riser Mount with Picatinny Rails
$50 IE-110 Tactical OP- 1 Bipod
$35 IE-111a Five position Foldable Foregrip
TOTAL $402
See you on the ranges,
Murray "DOC" Gardner.
---
May 1, 2012
Insight into Blade-Tech
Recently I had the opportunity to visit the Blade-Tech factory. Very impressive and great people. My rep and I met for a couple of hours and he was kind enough to open my eyes to the myriad of activities needed to produce what would seem to be a simple holster.
They make the Kydex holsters by using very high heat in the process to form them to the molds. The holsters always need some human finishing which surprised me as I had the concept that it was all machine made. The majority certainly are but those final touches need human contact.
Blade-Tech also makes a wide ranging line of injected moulded holsters for the price conscious in their Revolution line. The pictures show a paddle belt attachment, I supply the Tek-Lok system unless otherwise specified.
With the high quality of the Revolution injected molded holsters, it is a pleasant surprise to know that the high quality is made offshore.
Blade-Tech was one of the last companies to take any production off shores. The difference between Blade-Tech product and other overseas products is that unlike other manufacturers, Blade-Tech owns the production facilities overseas. They control every aspect of production in these facilities and are continually checked for quality control. Blade-Tech actually flies out their Chief of Operations and Production manager 2 times a year to personally check all conditions and quality control.
Because they own the facilities and equipment, they have control over every aspect of production.
Blade-Tech has a large variety of handguns for which they make Revolution holsters. To do this for their Black Ice and Drop Offset Holsters (DOH) is a much more complex method. They have HUGE racks of molds for these holsters to cover the wide range of handguns made today. They are always updating their models. This is great as it is almost impossible to beat them at the "have you got a holster for one of these?" game.
Manufacturing Process
Image to the right: This is what the holsters look like when they come off the heat pressure mold. You can see 1911 RH paddle, HK P2000, IWB (in the waist band; yeah, I know, took me a while to figure the code too:) and 1911 TLE IWB. These are just a small part of the production I saw.
Images below: This is a part of the templates they have for whatever gun you have. Every time a new model of handgun comes out, off they go to get a sample from which to make a mold.
Knives
Along with the many holsters they make, they also make knives. I was fortunate to handle their prototypes of the new I4NI Kicker Assist, $95 (left, below) and Riptide, $130 (right, below) models. I HAVE to have one of the Kicker Assist when they are available in late May 2012. In light of that, watch for mdgardner.com to be carrying Blade-Tech knives soon.
See you on the ranges,
Murray "DOC" Gardner.
---
April 23, 2012
COMPLETING AN AUTHORIZATION TO TRANSPORT (ATT)
This is a chore which new handgun owners have some difficulty sorting out and long time handgunners can always have as a reference. READ THE INSTRUCTIONS HERE FIRST and then download this ATT form already partly filled out for your convenience.
Also on offer: the Ultimate Trigger Kit, shown below. Mickey Fowler installed the Ultimate Trigger Kit, adjusted the spring, and shot the Steel Challenge with a trigger pull under 2 lbs!
---

Ultimate Trigger Kit

| | |
| --- | --- |
| Ultimate Trigger Kit | $160 |

Mickey Fowler installed the Ultimate Trigger Kit, adjusted the spring, and shot the Steel Challenge with a trigger pull under 2 lbs!

This kit includes:
Koenig Ultra Lightweight Hammer
EGW Hard Sear
EGW Ball Head Disconnector
Colt Sear Spring

This kit is not 100% drop-in and should be installed or checked over by a competent gunsmith prior to shooting.
See you on the ranges,
Murray "DOC" Gardner.
---
April 1, 2012
Have You Got an Electric Primer Filler Yet?
It's April Fools, but this is no joke! Dillon makes an electric primer filler to save you the worst part of the reloading job.
This is WAY too neat! I treated myself to one a year or so ago and can't believe I waited so long. No more filling up those fershluginner primer tubes one primer at a time...
I calculate I have done that 750,000 times since 1975.
Now, I just throw the 100 pack of primers into the hopper on the top, turn it on for 2 minutes and, TA-DA!-100 primers ready to put into the magazine tube on the press! I can load 55 rounds on my 1050 in the time it takes this unit to fill 100 into the tube. In other words, I can't load faster than it can fill the tube-WOW!
At $360 for the small primer filler they are pricey but the time and hassle it saves me is more than worth the money. Primer fillers are in stock, of course, like all the products I show on my web page.
See you on the ranges,
Murray "DOC" Gardner.
---
March 8, 2012
A Great Price on a Great Press from Dillon
mdgardner.com is always looking for ways to move you into reloading so you can use your money to shoot more.
Dillon, wizards that they are, have come out with a new idea for reloading.
I understand that the initial price to get into reloading can seem to be a bit prohibitive. To that end, the new BL550 press is now available. It is the starting point for those who understand the value of reloading but need the financial nudge to jump in. Here it is, the BL550 press.
Read this invoice designed for 9mm Luger using the BL 550.
The yellow shaded area is for options for your BL550 items. Start with a basic BL550 and upgrade to an RL550 as you become more familiar with the processes, as shown by the green shaded area.
Now, some basic arithmetic.
This invoice shows $909 before taxes. The taxes change depending on where you live so taxes are not taken into account.
That $909 INCLUDES enough material to load 1,000 rounds of 9mm Luger ammo. If you consider the average price of a box of 9mm Luger ammo is $250/1000 or $12.50/box, and about $14/box if you buy single boxes, then the savings are HUGE! Components, less brass because there are tons of 9mm Luger brass lying around the ranges, comes to $186 or $9.30/box. You save a minimum of $3.20/box. It will take about 5,000 rounds to amortize the cost of the press and hardware to bring every box from then on at $9.30. And, you can tailor the loads to your specs. Load down and shoot a comfortable load that isn't hard on you or your pistol. Or, crank 'em up and hang on:)
Look at the $909; it is about the price of a good quality handgun. Think about then call. I'm at the end of the phone line or email;)
See you on the ranges,
Murray "DOC" Gardner.
---
February 7, 2012
Limited Time PRE-SEASON SPECIAL
To get everyone fired up for the coming IPSC Shooting season, I have assembled a limited number of ALL GONE!! 16 special packages, no more. Two packages from which to choose: GOLD or SILVER, as shown below.
The packages sold out, but I can still make you a great deal. Call me at 604-889-3822 and let's talk about what YOU need.
See you on the ranges,
Murray "DOC" Gardner.
---
January 28, 2012
Tim at Shaw is Da Bomb
Tracey, my web goddess, put me onto Tim at 604.368.3634.
I just switched my home phone and internet onto Shaw where I had my cable. If you think you are paying too much or need a businessman who understands customer service to the same level I run my business, give Tim a call. He was able to save me TONS per month and without the usual jazz of "For the first six months..." and then they hammer you for the full over blown rates.
Call him, as I say, "Like chicken soup, it won't hurt ya!" I am certain that when Tim does his magic you will be pleased. Let me know so I can share even more with others.
See you on the ranges,
Murray "DOC" Gardner.
---
December 31, 2011
Are You Ready for Next Year?
Hard to believe this year is about to end. It was another barn burner with matches, practice, travel, etc. and nothing but fun!
My product line expanded this year with the addition of EGW, GunButter and Uplula. They join the many other proven lines I carry. And when I say carry, I mean in stock. I am always amazed when clients ask how long to get a product and their amazement when I have it in stock. Who wants to wait, need it NOW!:)
Each year at this time, I ask, "Are you ready for next year?" You should be starting to squirrel away practice ammo and get that match sample ammo ready for chrono testing once the weather allows it if you don't have an indoor range. Check all your gear and be certain you have all your stuff range ready and maybe add that new trinket you have been eyeballing for awhile.
You have to schedule match days to compliment the practices you have booked for 2012. If you have NOT done that, get with it, time's getting away from you. If you shoot IPSC, start looking at getting to Brandon MB for the nationals. The MB crew has not put on the nationals since 1999 and they are looking forward to showing us a great time.
The IPSC BC Provincials will again be held in 100 Mile House in the Chilcotin. Brian and his crew always do a bang up job and this year will be no different. Expect lots of wood props and tough challenges to see who comes out on top this year. I am looking forward to using my new Open gun again and see how the eyes like optic sights. 2011 was a bit of a mixture of Open and Standard for me and I think focusing(small pun) on Open will bring me the satisfaction I seek for the old, and I do mean OLD, eyes. Gettin' old sucks but the option I can do without.
Qualifiers and Club matches will take up many weekends in 2012 and I might even take the odd weekend off from shooting and teaching to do something different. Yes, concept surprises me too:)
To all my friends, clients and readers, have a Merry Christmas and Happy New Year.
See you on the ranges,
Murray "DOC" Gardner.
---
November 12, 2011
Shot Timer Evolution: the CED7000PRO
Over the past two years, CED & DAA have again been joining forces together to bring the shooting community the next stage in Shot Timer evolution. Advances in chip and display technology have made it possible to elevate the simple Shot Timer to a complete comprehensive Match, Training, & scoring tool!
The CED7000PRO is truly a revolutionary product, which will change the way we shoot and score IPSC, USPSA, IDPA, and Steel matches forever! How does it work? YouTube (22 min)
At mdgardner.com we are selling the CED700PRO for $225 CDN. In stock now!
Range Pack Pro
And, finally, a back pack designed specifically for shooters. Competitive Edge Dynamics and Double Alpha Academy are proud to introduce the latest and BEST in this style of range bags!
See you on the ranges,
Murray "DOC" Gardner.
---
October 30, 2011
Have You Seen This Awesome Video?
Julian Beak has made an incredible video of his perspective as a new IPSC shooter, at the setup and match for the IPSC BC 2011 Provincials. This amazing production gives you insight into everything a match encompasses.
If you haven't seen it yet, what are you waiting for? Click here!
See you on the ranges,
Murray "DOC" Gardner.
---
blog: October 6
Introducing Gun Butter
My customers demand the best, and this lube works like a hot damn.
I have used Gun Butter for a time now and like it so much I am going to sell it. I always test a product and use it before I offer it to my clients.
Over the years I have used a wide range of firearms lubricants; oils, greases, etc. They all worked relatively well and I never made a big deal about any of them. But, that has changed, big time!
If you are looking for cheap, poor lubricant, stop reading now and move on...
If you are STILL reading, then Gun Butter is for you!
Read the tech material on it here and you will find that the length of use time extends towards 2 years for the product. Amortize the cost at mdgardner.com, which is less than US suggested retail, and consider the extreme protection and lubrication characteristics. You will realize this is a bargain.
I truly believe that you will start using Gun Butter and never go to anything else.
See you on the ranges,
Murray "DOC" Gardner.




---

Gunbutter 2/3 fl oz

$15 for 2/3 oz. bottle

Gun Butter is an exotic blend of the finest lubricants available today.

Specifically designed for:
1. Break-in protection and durability.
2. Clingability (film strength) to maintain its placement.
3. And enhanced lubricity to allow superior performance in all weather extremes;
A) Heat – will not burn up in a jet engine.
B) Cold – unabated in freezing conditions
C) Wet – stays intact during pouring rain
D) Dry – repels dust and airborne sand
4. Consistency in all weather extremes

This is not a grease, it's an oil. Needle oiler provided for precision application. Yields roughly 50,000 rounds.





---

Gunbutter Needle Oiler

$9 - Needle oiler 15cc

Gun Butter is an exotic blend of the finest lubricants available today.

Same great stuff in a pen for easy application to specific spots, handy for your range bag.





---

Gun Butter's Trigger and Locking Lug Grease

$13

Glock owners, this is the one. All other guns benefit too.

Gun Butter's Trigger and Locking Lug Grease is a new technology reducing the moment of inertia in moving parts and protection of high impact surfaces.

It will out perform conventional graphite and molly greases and offers many times the adhesion." Trigger Butter" was used exclusively for years in competition by our team. Now blessed by our professional shooters, Gun Butter's Trigger and Locking Lug Grease, is now available for the first time to all shooters of any level concerned with protection and performance.

Suggest application:
* Placed in hammer hooks
* Sear tip and pressure pads / contact points
* The sear spring tip
* Upper and lower locking lugs on the barrel

Also suggested for use on the hammer strut contact point with the cup for the hammer spring.

Use sparingly. Note: We do not recommend use on slides surfaces, as the performance of Gun Butter alone is optimal.





---

$35 Combo pack of all three items, save $7





---

$25 combo of 2/3 oz and trigger & lug grease - save $6





---

$20 combo needle oiler and trigger & lug grease - save $5
---
blog: June 12
Whole Lotta Specials Goin' On
Are you New to Sports Handgunning?
You may enjoy my new teaching package described in this brochure.






---

DOC's Starter Package

Many of my clients are brand new to handgunning. They know they need to take advantage of my 2 hour personal lesson so they can find out what the differences are in various handgun actions, trigger functions. sights, grips, etc. To encourage these new shooters, I have put together a basic package of what someone would need PRIOR to buying that first new handgun.

My brochure My First Handgun covers the technical requirements beginners need, but I strongly advise the following additional purchases for your safety, legal compliance and comfort:

Reg $80




Double Alpha Shooting Glasses




The Double Alpha glasses kits come with a ton of goodies that will be valued throughout your shooting experience. There are five lenses and a soft case along with a cleaning cloth, arm support, vision prescription holder all in a hard case. These glasses will meet all weather conditions. Details.

Reg $65




SmartReloader Electronic Muffs




Hearing loss is insidious and happens over time and is not repairable. Once gone, its gone. SmartReloader electronic muffs allow normal conversation, for safety, on the range but cut out gun shots to an acceptable db rating to prevent loss of hearing. Four colours, anthracite, red, blue and olive help stave off the "everyone is the same" issue. Details

Reg $50




CED Gun Case (Medium)




And finally, something solid and secure that meets the standard of the regulations(opaque material that can't be easily opened or broken into, can't say that for zipper sided cases:). The smallest is good for very small items and prohib handguns. The medium and large will hold multiple handguns depending on barrel length. I can get at least 2-3 into the medium and 4-6 into the large. Details

Reg $10

CED Programmable Lock x 2

A great lock, plus a spare.

Total:

---

$205 - 15% = $175 + taxes depending on Province + shipping if required

Here's the deal: If you buy the starter kit containing all of these items, you will pay only $175 + tax (that's 15% off if you are trying to do that calculation). That should give you enough to buy some ammo to take your new pistol out to shoot!

If you want to top it all off, add a range bag, either Deluxe at $90 or Pro $85. When you buy a package, you can add your range bag for only Deluxe $75 or Pro $70!

To order, call 604.889.3822 or email doc@mdgardner.com.
JUST WHEN I THOUGHT THEY COULDN'T DO BETTER...
Double Alpha has come out with the best mag pouch to date. Not plastic, which works just fine, thanks, but aluminum. I have been messing with one at my bench and I must admit it is ingenious. The belt attachment is the same as the Race Master holster and sits flush to the belt. No more lumps between belt and pants, very nice and well fitted. The tensioner is the neatest device to come along in a long time. A turn of the thumb wheel gives you exactly the right tension, too cool! The amount of adjustment available far exceeds any previous mag pouches I have seen.
It is a very solid and rugged unit which indicates a long life of use and not sensitive to those hot days (not in BC so far this year:( when the plastic units have to seek shade. The description in the ad will supply more info.
I never cease to be amazed at what comes along. We are a long ways from the "good old days" of leather belts that lasted a season and double mag pouches jammed together making a reload more of a challenge than it needed to be. Leather holsters and other gear have a smell that shouts style and history. I have lots of worn out leather rigs lying around that have much nostalgic value. Occasionally I wear one to bring back those old times but for serious work, you cannot beat the current items.
These new pouches are more money, of course, but you are getting so much more for that money.
See me at the matches or a "consulting session" at Starbucks:) and I will show you what I see in these.
See you on the ranges,
Murray "DOC" Gardner.




---

Double Alpha Race Master Magazine Pouch

Race Master Magazine Pouch
Red, Blue and Silver colors available soon

$67

We are proud to present our DAA Race Master Magazine Pouch!

First of its kind, this hi-tech magazine pouch was designed by Saul Kirsch, using advanced Cad-Cam software. It is the perfect complementary equipment for the now hugely successful DAA Race Master Holster.

Like the innovative Race Master Holster itself, the Race Master Pouch is a completely original design, unlike anything else seen on the market to date.

It is constructed from aluminum rather than plastic, and this allows a design and performance never before possible in a competition mag pouch. It offers a wider and more diverse range of adjustability and mounting options – and more important, locks rock-solid in the chosen position, not losing its settings until the user chooses to change them.

Its wide range of angle adjustments allows the user to position his magazine "just so". This feature, combined with a unique and superior retention system, creates a smoother and more consistent release, leading to a more reliable and faster reload.

Unlike all other pouches, this pouch's pressure adjustment wheel applies its load to the back of the magazine, squeezing the mag tube from back to front rather than from left to right, as most others do. This is a lot more effective, as the magazine's front and back walls are straight and parallel, while the side walls are tapered on all double-stack mags. This type of contact creates a far smoother draw of the magazine. A few turns of the wheel changes the tension from very loose to very tight, as may be required on a particular course of fire.

The DAA Race Master Magazine Pouch is suitable for right- or left-handed shooters, for all double-stack magazines, and is available in Black, Silver, Blue, or Red.


Please note! The DAA Race Master Aluminium pouches are supplied with 2 sets of spacers. The first set (assembled) is designed to fit the 2011 STI magazines. It will work perfectly also for SV, Para, SPS, BUL M5 and any other wide body 2011 type mag we have tried.

The Second set of inserts are designed for the CZ SP01 mags. They are a perfect fit also for the small Tanfoglio mags. For other model magazines, some fitting may be required. It may be necessary to remove some material from the back side of the side spacer, to allow more room for slightly wider mags. This we have seen with Glock and S&W M&P mags, and is sure to be the case with others. This fitting can be done in minutes with a piece of flat sandpaper, or in seconds with a belt sander.

Also, please note that these pouches are made of aluminium. It is to be expected that the steel magazines will scratch and burr the top edges of the pouch over time, however this has no effect on the function of the pouch.




---

CED/DAA Range Ready Cleaning Kit

| | |
| --- | --- |
| Range Ready Cleaning Kit | $70 |

The FIRST EVER cleaning kit truly custom-made for IPSC / IDPA shooters!

The CED/DAA Range Ready Cleaning Kit includes everything needed for calibers ranging from .22, 9mm/38 Super, .40 / 10mm, and .44/.45 Cal.

Designed to fit comfortably into your range bag, the Range Ready Cleaning Kit opens to reveal a rubberized 36x43cm cleaning mat built right into the kit itself. The mat, made of durable PVC material, is the perfect workstation for your field repairs and pistol cleaning needs. The non-slip surface prevents parts from getting lost and is easy to wipe clean after use. When finished, simply fold and zipper close. The entire Cleaning Kit measures only 8" x 12" x 1.5"(20x30x3.5cm) and easily stores away inside your CED Professional Range Bag or Shooters Back Pack.

The Range Ready Cleaning Kit comes packed with custom features and tools. Included are all the brushes and swabs needed for proper gun care, two utility brushes with storage cases, a custom two-head brass / nylon hammer, a custom hex key set in both metric and standard sizes, a 4-bit custom screwdriver set, a plastic storage case for storing brushes & parts, a custom steel punch set, a stainless steel double-head cleaning tool for tough to reach areas, cleaning rod with steel patch loop tip, cotton cleaning patches, wired extractor/firing pin cleaning strips, & a 0.5 oz bottle of the famous Shooter's Choice FP-10 Elite lubricant, all designed specifically to fit into our compact, convenient and very functional cleaning kit.

An extra clear plastic zippered storage pouch has been included for essential replacement parts you might want to keep close on hand.

Dimensions closed: 8"H x 12"W x 1.5"D(20Hx30Wx3.5Dcm)
Dimensions opened: 16"H x 17"W x 0.75"D(40Hx50x1Dcm)
Weight: 2.75 lbs. (600gr)

The CED/DAA Range Ready Cleaning Kit is the only pistol cleaning kit you will ever need again. At $110.00 when purchased separately, the Range Ready Cleaning Kit is an exceptional value!

The Range Ready Cleaning Kit includes:
1. Phosphor Brushes (3 pcs.) (9mm/.38 Sup., .40 Cal./10mm, .44/.45Cal.)
2. Cleaning Swabs (4 pcs.) (.22 Cal., 9mm/.38 Sup., .40 Cal./10mm,.44/.45 Cal.)
3. Stainless Steel Tornado Brushes (3 pcs.) (9mm/.38 Sup., .40Cal./10mm, .44/.45 Cal.)
4. Nylon Brush (.22 Cal.)
5. Double-ended Utility Brushes (2 pcs.) (Nylon / Phosphor) includes brush storage cases
6. Two-Head Hammer (Nylon / Brass)
7. Custom 12 pc. Hex Key Set (1.5mm, 2.0, 2.5, 3.0, 4.0, 5.0mm & 1/20",1/16, 5/64, 3/32, 1/8, 5/32")
8. 2 pc. Punch Set
9. Cleaning Rod with Patch Loop attachment
10. Stainless Steel Double-Head Cleaning Tool
11. 4-Bit Custom Screwdriver Set (3.3mm, 5.0mm, 6.0mm, #1 Phillips)
12. Shooter's Choice FP-10 Lubricant Elite
13. Wired Extractor / Firing Pin Cleaning Strips (20 pcs.)
14. Cleaning Patches
15. Rubberized cleaning mat
16. Extra pocket for storing small items




---

EGW Ammo Gauge

| | | |
| --- | --- | --- |
| EGW Ammo Gauge: Pistol | 9mm Luger, .40 SW and .45 ACP | $27 |
| EGW Ammo Gauge: Rifle | .223 Rem | $40 |

Anyone who reloads knows that practice ammo doesn't get the same TLC that match ammo does. I ALWAYS gauge my match ammo. At matches I see too many who don't and they have malfunctions that are not gun related but ammo related.

Chamber checkers have been around a long time as has EGW. I first met them at US Nationals back in the late 1980's which tells you they must have good product to survive this long. I first started using the multi chamber checker for .40SW and have moved to 9mm Luger for my Open gun. These little beauties save time in the last process before boxing and labelling your match ammo. The price difference is little to a single gauge.

Currently in stock are 9mm Luger, .40 SW, .45 ACP and .223 Remington (5.56 NATO).

EGW's Chamber Checkers are machined from solid 6061 T6 aircraft grade aluminum.

While some companies use boring bars to make chamber checkers, EGW uses the actual Clymer reamers that are used to chamber barrels.

Anodized matte black for durability.
---
blog: May 30
Proud Sponsor of the Shooting Sports
Proud Silver Sponsor of the 2011 IPSC Canada National Championship
Proud Stage Sponsor of the 2011 IPSC BC Provincial Championship
See you on the ranges,
Murray "DOC" Gardner.
---
blog: May 8, 2011
Brush Up on Mag Care
It seems that the more I hang around this game, the better the products become. One item that everyone should have in their range bag (the CED bags I sell, of course) is a mag brush.
When you drop your mags into those many time not friendly range floors while doing a blistering reload, the mag you retrieve needs lots of TLC. When we first thought of a mag brush, they were those twisted wire handle jobs that were either skinny for single stack or wider for those weird new wide body guns. The mag brush cleaned not only the mag but also the inside of the grip.
Of course, mag brushes improved and we saw some great designs.
Again, Double Alpha Academy leads the charge. I now have in stock their mag brush/bit set combo. The body is a soft and pliable brush material that fits any mag you can come up with. The handle is not plastic but machined aluminum piece hollowed out to hold the various bits that one needs on the range and the bristles are replaceable.
BRILLIANT! See the description below and pictures.
All this for only $27 and in stock.
Add one to your next order or pick one up from me at the matches.
DVC,
Murray "DOC" Gardner.




---

Double Alpha Mag Brush & Bit Set

The DAA Magazine Brush and Bit Set takes the design of the mag brush to a whole new level!

Our mag brush boasts a machined and checkered aluminum handle, anodized in black for long lasting striking looks. The hard bristle brush is replaceable, so if you wear it out - simply order a new brush only, unscrew the old and screw in the new! Easy and simple.

On the opposite side of the handle we offer a magnetic tool-bit holder, and in the handle are stored 10 quality stainless steel bits, turning this mag brush into a versatile screwdriver and hex key set as well!

The bit set includes 2 flat-head screwdriver bits (one extra long), 2 Philips bits and 6 hex key bits (1.5, 2.0, 2.5, 3.0, 4.0, 5.0 mm) Weight: 0.250Kg
---
blog: March 28
Lookin' Like a Good Year...
Here is a new product which I have never offered before.
For years I have used Oakley glasses for shooting. They are very high quality glasses with no distortion and style that I like. Oakley has been my choice since 1986 at the US Nationals in Dallas TX.
That has now changed.
The products produced by Double Alpha have proven to be not only innovative but extremely well designed and functional. They have a line of glasses that I am now proud to not only wear and use but also to sell. These glasses are the best value for what you receive.
First, they have FIVE lenses of various colours to meet the needs of any light conditions. Two different attachments to the arms are provided if you wish to keep them tight to your face and reduce the chance of loss. A plus is the prescription insert in case you have a need for that. It snaps in and is removable if need be. I find the clarity of the lenses to be on par with Oakley and lens interchangeability is geared to those of us who are mechanically impaired. Lots of space is left between the nose and forehead so that the do not fog up, a well thought out concept.
Each set comes with a soft cleaning cloth and soft bag to hold the glasses.
All this comes in a hard case to hold all the bits.
Now, the clincher; price. $80...yes, only $80 for all that!
Currently the Alpha comes with black, black/red and black/blue frames. As usual, delivery is from stock in hand.
Watch for this year to be even more interesting.
See you on the ranges,
Murray "DOC" Gardner.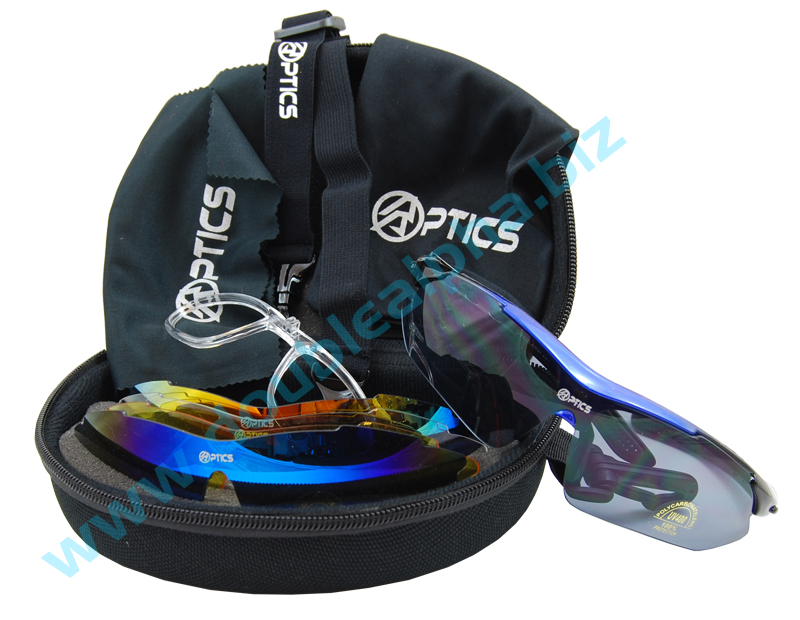 Our Model Alpha offers the serious competition shooter a complete IPSC shooting glasses set with all the "bells and whistles" at a surprisingly reasonable price. The glasses are ANSI Z-87.1 Impact approved, and the Polycarbonate lens offers full 100% UV400 protection. The Model Alpha is a wraparound 1-piece lens glasses, with a sturdy polymer, fiber-reinforced frame and a complete array of 5 lenses. The Set is packed in a handy hard case, which provides protection and support for all the individual lenses and accessories. The nosepiece is adjustable to allow a more comfortable customized fit and the side arms are slim, perfect for use on the range under ear defenders.
Each Set includes:
A hard case.
One frame (available in a choice of Tactical Matte Black, glossy Black/Blue or glossy Black/Red).
A microfiber cleaning cloth.
A microfiber carry bag.
A headband strap which replaces the detachable side arms.
An optical insert inner frame which clicks into place behind the interchangeable lenses.
5 lenses, including:

Clear, offering 92% light transmission.
Yellow, offering 87% light transmission and enhanced contrast and depth.
Smoke, offering 35% light transmission, ideal for moderately sunny days.
Blue Mirror, 22% light transmission, a striking look for those bright days on the range.
Rainbow Mirror, 22% light transmission, another striking look for those sunny days.
The adjustable nosepiece provides a comfortable snug fit, and allows you to adjust the height of the frame as needed. Perfect for setting the glasses a little higher when needed, like when shooting prone.
The Model Alpha includes a replacement head-band which snaps into place instead of the side arms. It can be installed in seconds, without tools, and offers you a more secure fitting for those extreme situations.
The Model Alpha is available with a choice of three frames - Tactical Matte Black, glossy Black/Blue or glossy Black/Red. Additional frames can be purchased separately, allowing easier transition from one lens to another.
The optical insert clicks into place behind the interchangeable lenses, allowing you to use all the lens types with just one optical insert. The insert does not include correctional lenses, and you must order those from your optometrist.
---
blog: February 20
AND NOW FOR SOMETHING COMPLETELY DIFFERENT...
I have been at this shooting game for over 35 years but, and this might shock some of you, I do MORE than just shoot! Say what?
Yes, I DO have other interests. One is racquetball which I have played since 1979, 3 days a week, and golf which I have played since about 1975, on and off, more on these days.
Racquetball is with a bunch of other OF guys and a couple of "youngsters". You know, youngsters, guys in their mid 40's. The OF and I have played golf for almost 20 years and this is my other "shooting" sport. Shooting and golf are VERY close in sport preparedness and delivery but that is for another time.
This time it is about one of my golfing buddies, Young Brian(who is 72 vs Old Brian who is over 80:), and his wife, Bev. They are really active and one of Bev's, and hence Brian's, activities involves the Gogo Grannies. This is a fund raising charity for the Stephen Lewis Foundation. If you don't know what that is, go look it up, I'll wait. There, it IS a good thing isn't it.
Gogo Grannies(read about them in Reader's Digest) are doing wonderful work in Africa with their ties to our Canadian grannies raising funds to help AIDS sufferers.
OK, OK, what's the point?
The point is, here is a chance for all of us to do our part. I do know that a LOT of shooters also golf. And like our guns, golf clubs come but seldom go. Now is the time to make them go and do a good thing at the same time. Brian is collecting clubs to sell and raise funds. See the poster here for details.
My goal is to encourage you to participate by both donating your old clubs(come on, you REALLY don't need that old driver, time for a new one) and come to the event. I know by buddy Norm has a very good wedge he would donate if he could get to the bottom of the pond off of the 16th green at Peace Portal where he chucked it:))
Our gun Club, Poco, is having a pistol match that day and I am going to go to the driving range afterwards to participate. You should too.
All right, like me, go to the garage, storage locker or where ever and get those old clubs. I am playing racquetball later today with some of the "boys" and giving my donation then. Stop procrastinating and do the same. To all of you who step up and support this, please accept my personal THANKS for being there.
See you on the ranges,
Murray "DOC" Gardner.
---
blog: February 9
MY CUSTOMERS ARE THE BEST!
I have been in business since 1970 and have had some very good clients over that time frame. As my client base changed into the firearms community, I have always been impressed with the sincerity and straight up approach they bring to the table.
Recently, in two very GREY moments, and after returning from a break in Las Vegas, I messed up two orders to some clients. Shipped 2 of four boxes by mail instead of bus, and sent two others later than the first shipment. Less than desirable by any measure.
I advised both clients of my OOPS! and that some extra shipping would be due. The orders were shipped with freight owing so as to get the orders out. BOTH of these fine upstanding gentleman sent the difference in freight before the day was out. That is spectacular! I was not only impressed but humbled by their generous and professional approach to our relationship.
Thank you both, you are keeping my faith in our firearms community alive.
Normally, testimonials come in FROM clients to me. It is my turn to give a testimonial how good my customers are.
Let's all keep up the good work and move our sport ahead.
See you on the ranges,
Murray "DOC" Gardner.
---
blog: January 16
WHY YOU SHOULD BECOME A RANGE OFFICER
As you go to IPSC matches and shoot, you notice that there are a large group of our members known as Range Officers (ROs) who put you through the Courses of Fire (COF or stages). They operate the timers, keep track of scores on the score sheets, have you sign the results, organize the squads and generally keep the show rolling. They are there in the rain, the sun, if it shines, fog or any weather that comes along to give us more thrills than shooting. They patch and change targets, set metal knock down targets and activators, keep to the schedules and a host of other chores that have to be done for a match to be a success.
These tireless men and women also take their turn to shoot. Their day is VERY long and they do this match after match after match. Crazy? Possibly. Dedicated? Beyond doubt.
You can become a giver to your Extreme Pistol (IPSC) sport too. After you have been shooting for a year, you can take the RO Course. The RO Course is given over two days on a weekend. In the course, experienced RO Course Instructors will guide you through the skills and behaviours required of an RO to do a good job. The Rule Book is dissected so you can start to discover how to open it and find the answers to the myriad of questions that come up during a match.
I have worked with the Rule Book since it was first developed in Bournemouth England in August 1980. There have been numerous revisions and updates. Confession time; I cannot remember all the rules. There are too many and plenty of variations since 1980. The only way to work with the rules is to open the Rule Book and read what it says. From there we try to make the interpretation fair to the case in hand. There are many areas of the Rule Book that need improving and lots that are still grey but we carry on with what we have. You can start to become familiar with the Rule Book by taking the RO Course.
When you take the RO Course, you will find your shooting takes on a new perspective. Knowing the rules is a great way to understand and analyze a COF so that you may shoot it better. It won't make up for training your shooting skills, but it will help. Knowing the rules and using them does not include trying to twist them for your personal advantage. :-)
As an RO, you will get to watch approximately 50 different shooters shoot the COF on which you are assigned. Imagine, 50 different methods shown to you. Some will be very good, some will be very bad. You get to pick those techniques that you think you can handle and will work for you. Does it get better or what?
How much do you have to pay to become an RO? NOTHING! IPSC BC pays for your course kit, lunch for two days and snacks. Yes, that is correct. You are supported to be there. I bet you can hardly wait to sign up.
February 26/27.2011
Port Coquitlam BC
9AM-5PM each day
No charge, meals and snacks included
To sign up for the next RO Course in Metro Vancouver February 26 and 27, 2011, pick up the phone and call Murray at 604.889.3822. You can email but you will eventually have to call and talk to me. Worse things could happen to you. ;-) Try to contact me by February 14 so that you can review your materials in advance for your review.
The course will run from 9am-5pm over both days. You will learn the theory of the rules followed by a practical session where you are the RO and run a mock COF. Don't panic; once you complete the RO Course you will NOT be kicked into the deep end of the pool. In your first match as an RO, you will be assigned to a CRO who will give you a simple job to do as you learn the ropes of being an RO. As time progresses and your skills improve, you will be assigned more demanding tasks as an RO. You might even want to move up to a Chief Range Officer (CRO) but that is another story.
I am excited about the opportunity to share my 35 years of shooting and officiating at matches with a new group of RO candidates. Call and let's move you to another level.
See you on the ranges,
Murray "DOC" Gardner.
---
blog: October 10
Slick New Double Alpha RaceMaster Holsters
WHAT'S UP DOC? How about the slickest holster to come down the pike in a long while?
The new RaceMaster, $225, from Double Alpha has married all the best of the best in the market. Retention is simple and solid and lots of neat colours. Along with a wide selection of colours, the variety of angles can't be beat and adjustments are very simple.
Good and solid belt attachment plus flexibility makes this even better.
In stock are STI, Glock and CZSP01 blocks. More on the way so don't be afraid to order! :) This latest product makes the Double Alpha belts, holsters and pouches the leading edge in the industry and I have had great personal success using them.
Holster Setup
For those of you wondering how does all this wonderful kit fit together, here is my rig setup. I am right handed so RaceMaster on the right. It works in this spot for either Open or Standard. Note I use only FOUR pouches. Happy to sell you more but, just sayin'.
This is how I set up my pouches. Note they all have different angles as your hand contacts them with different angles. The first pouch is critical as you need something very quick for static reloads. The rest you come to are likely during a Long Course.
Yes, the magnetic pouches will hold TWO STI mags or others of the same type. Good place to put your first charger magazine.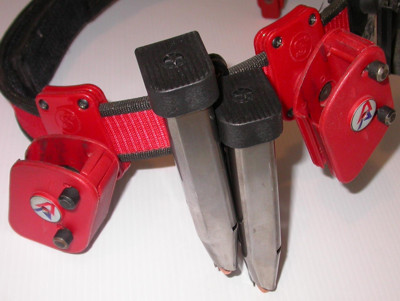 Even Glock mags hold firmly. Yes, there IS metal in Glocks contrary to popular media myths.
The next two pictures show how snugly the holster fits the belt, similar to the fit of the pouches. The pouches REALLY make you work to fit them. Take the pouch off, snug the mount to the belt, even with vice grips if needed, and start the screws. THEN mount the pouch.
I hope this helps you determine the best and type of rig for you.
Moving to Open Division
I have FINALLY, due to Super Senior vision, moved to an STI TruBor in 9mm Luger loaded to Major. Nice change for the 1st time since 1994:) I stopped shooting Open Division in early 2000 and went into Standard Division. Sight degradation has finally caught up to me:( But, and this is like literally having your eyes opened, a C-More sight is still the greatest.
Having said that, I can't remember the last match I shot where the holster was imperative to a good score. Stages these days seem to have you pick up the gun, probably empty, sorry, Colonel Cooper:( or move over there and shoot, etc. etc. Draw speed has moved into the realm of not important. With that in mind, beginners must seriously consider the cost of a really neat holster for $225 or so versus a utilitarian unit like Blade-Tech for <$85. That leaves a good chunk of change for important stuff like presses, bullets and so on. I REALLY like my RaceMaster but I have been at this for a while. Additionally, the RaceMaster allows me to move from Open to Standard with one holster but that isn't something a beginner might need. Think about your choice but always choose mdgardner.com for your purchase:)))
All the usual good stuff is in stock and although the shooting season is winding down, it is never too early to think about 2011.
See you on the ranges,
Murray "DOC" Gardner.
---
blog: July 5
WELCOME UpLULA MAG CHARGERS!
OK, I admit that I am a wuss when it comes to charging my magazines. I want it as easy as possible for me. I have used a variety of mag chargers some with more success than others. These ARE the best so far!
I can charge those pesky and annoying "10" round factory Glock mags as if they were real magazines:) I borrowed a neighbours AR mags to try the AR version and they are slick as well.
If you want to charge your mags easier(yes, charge, not load; you load a firearm and you charge a magazine:) then these are the answer. They work for any mag, single or double stack, any cartridge. Gotta get you one of these.
The pistol version is $40, AR15 is $35, taxes and shipping extra, of course.
I look forward to your order.
See you on the ranges and at the matches,
Murray "DOC" Gardner.
---
blog: July 5
OK, I DON'T HAVE A SPECIFIC TOPIC BUT...
Thought you might find this as much fun as I did.
While I don't have a lot of time to surf the web, I do run across things that I find interesting. And as this is MY web page, you get stuck reading about what I think is interesting!
This should give you some information and make you shake your head asking, "What, HUH?"
Go to http://www.rcmp-grc.gc.ca/cfp-pcaf/fs-fd/replica-replique-eng.htm and read through the material on Replica Firearms. There are some great links that lead to even more "What/Huh?" situations.
This is one that I found interesting: read the section on "Storing and Transporting Replica Firearms."
Come on! This is the same procedure required for a real firearm! It always amazes me the amount of effort put out to control inanimate objects and replicas, when it's animate objects, people, who cause crime. There are a ton of regulations relating to replicas and the ones who take the time and effort, like you and me reading this stuff, to follow it -- are NOT the problem!
Next blog will cover interesting stuff like the IPSC Canada Nationals coming up Aug01.10. The reason you are not getting this fluff blog is that I am about to send this to my web Goddess and head to the range to practice for the nationals:) If you are going to the Nationals too, quit reading this and get shooting!
Oh, yeah, don't hesitate to call and order stuff as I will make time from practice to get it to you. Also see me at the Nationals where I will set up my usual table of great stuff you can't live without.
See you on the ranges and at the matches,
Murray "DOC" Gardner.
---

Injection Molded Belt Holster

| | |
| --- | --- |
| Injection Molded Belt Holster | $35 |

Currently available for Colt 1911 5"(and similar) and Glock 17/22/31(and as noted below). If your model is not here, contact me for delivery time.

Blade-Tech now draws from its own injection molded capabilities and its many years in the holster business, to produce low cost, high quality polymer holsters. These holsters are made from a specially formulated polymer made for this type of injection molding. Stronger and more heat resistant than sheet material.

Injection Molded Belt Holster - Will fit 1911, Glock 17/22, 19/23, or 26/27 Beretta 92 series, Brigadier, Vertec. The Beretta holster, with a slight adjustment in the tension screws will fit the 92/96 series as well as the Brigadier and Vertec series.

Straight Drop only
Right Hand only

Note: (THE HOLSTER FOR THE GLOCK 17/22 WILL ALSO FIT THE GLOCK 34/35, BUT IT WILL EXTEND THROUGH THE BOTTOM OF THE HOLSTER APPROX 1 INCH.) This holster will not work for any 1911 with rail at this time.

---

Drop & Offset Holster

| | |
| --- | --- |
| Drop & Offset Holster | $86 |

Currently stocking CZ-SP01, Glock 17/22/31, STI Edge, SW M&P, Colt 1911 5"(and similar such as Para). If your model is not here, contact me for delivery time.

The "offset" feature of this holster allows for a greater degree of outward cant, which positions the grip of your pistol away from the body in a vertical position for more positive indexing. This popular holster also features a "drop", which lowers the placement of the pistol for an easier reach, allowing the arm to remain more extended.

The Drop & Offset holster is very popular for range work and is perfect for women's carry. The loop is adjustable for three different cants, Straight Drop, FBI cant, Muzzle Forward.

---

Revolution Holster Series

| | |
| --- | --- |
| REVOLUTION HOLSTER SERIES | $54 |

Currently stocking Sig 226 series. If your model is not here, contact me for delivery time.

Blade-tech uses it's extensive knowledge in kydex© holster making to bring you the Revolution line of holsters. Using a proprietary blend of polymers, Blade-Tech has engineered these holsters to offer lifetime performance in a wide range of conditions. The holsters won't become soft in extreme temperatures (over 300º F) and won't become fragile in low temperatures. Holsters come with a Sting Ray belt loop (adjustable for a 1" to 2 1/4" belt).

---

Black Ice

| | |
| --- | --- |
| Black Ice ASR Drop and Offset Holster (DOH) | $101 |

Currently sampling STI Edge with carbon fibre finish. The finish makes the price a bit higher but if you want a snappy looking and different holster, this would be the one.

Deep channel to allow smooth draw while in the seated position.
Broad opening allowing a faster no binding draw under stress and allows for a fast re-holster.
Tall sight channel to accommodate aftermarket night sights or fiber optic sights.
Positive tension lock trigger guard™.
Adjustable tensioning screws.
Thermoformed Kydex™
---
blog: April 6
Time to Get to Work
First, check out the new prices on Dillon and other items. The Canadian $ has been holding relatively steady for awhile and these new prices reflect not only that but also the 2010 price changes I have received.
You will find that although a high Cdn$ makes export business suck, import business such as mine benefit which means so do you!
Second, I have found some new products that make a shooter's life, read my life, easier.
Brass Picker 1000
For years I have heard everyone bemoan the fact that there is no "brass magnet" to pick up those empty cases we all so dearly need to keep reloading. I have spent 35 years bending over picking up brass. That is now over!
With the "Brass Picker 1000" you do NOT have to bend over. Just follow the instructions and dump your brass into the bucket. It works on almost all surfaces but NOT on gravel. We can live with that.
For $59 you get the Brass Picker 1000 and a bucket attachment for the bucket that you provide. Every time I use mine, the crowd goes wild. To paraphrase Scarlett, "I'll never bend over to pick up brass again!"
Shell Sorter
But, I hear you say, how do I make certain I don't end with that pesky 9mm or .45 brass when all I want is my favourite .40 brass? I'm glad you asked because I have that problem "sorted" out too with the "Shellsorter 1000". This has made sorting brass a breeze. Use your Brass Picker 1000 to pick up the brass and drop it into your bucket. Then throw the contents of the bucket into your Shellsorter 1000, shake like a gold pan and "Ta-Da", .45 stays in the yellow tray, .40 in the blue tray and 9mm in the bottom black tray. Too easy!
All that Shellsorter wonderfulness is available for only $54. I know!
Order yours today and be the first one on the block to show how brass picking/sorting SHOULD be done.
Along with these new items I am always searching for better and more useful products. Stay tuned for even more in the future.
See you on the ranges and at the matches,
Murray "DOC" Gardner.
---
blog: March 5
WHO OWNS YOUR OLYMPIC GOLD MEDAL PODIUM NOW?
14, count them, 14 Winter Olympic gold medals. The record breaker and done here on home turf. I cannot tell you how proud I am to be a Canadian! Our athletes put us on the map and they put the world on notice, WE BELIEVE.
And did they perform or what? I watched hockey, which I have no use for, like a lifetime fanatic. No fighting in Olympic hockey, that's my type of hockey. And better, we won in a story book ending that could not have been scripted. Magic like we never dreamed.
I watched bob sled (I rode in one in Calgary, WOW! what a rush!), luge, skeleton(those folks are NUTS!), figure skating, speed skating and more. Our PVR saved tons of time and allowed replays. Get one!
What impressed me tremendously was the pride and nationalism shown by Canadians. Our national identity and pride are out of the closet. Loud and Canadian proud, never hold back. Let's see that red and white sea of colour from Vancouver become an epidemic everywhere, Canada and abroad.
I have always been fiercely proud of the Canadian flag when I wear it on a uniform and you can expect to see more of that from me in the future. I hope you caught the fever and take the same approach.
During the Olympics, I was hired to drive Molson/Coors VIPs and staff around to venues, hotels, the airport or where ever they needed me and 15 others. 4:30am is a DREADFUL time to get up and although I enjoyed the experience, I am not missing that wake up call:) You can see from the photo that we were always busy and never had any time for recreation:))
Being downtown more than usual, I had the chance to try the Japadog on Burrard. As a hot dog junky, I was impressed. Try one! With the Olympics behind us, see you on the ranges.
And it would not be right if I did not encourage you to start to get reloading and shooting. I have lots of stock on hand and hope to be able to help you get more involved in 2010.
See you on the ranges,
Murray "DOC" Gardner.
---
blog: February 14
BELIEVE! GO CANADA GO!
XXI Winter Olympics 2010
Vancouver is buzzing with activity as the Olympics begin and carry on until the end of February.
In 1988 I attended the Winter Olympics in Calgary AB and had a rush of excitement when I attended the biathlon event, but this is a whole bunch different.
I have the great good luck to be driving for Molson/Coors during this event and just completed my first day yesterday. The photo shows my "ride", a big old GM Suburban; GPS navigation, On Star, heated leather 7 passenger seats, tinted windows, GREAT motor and lots of storage space. Not time to replace my DVC Santa Fe just yet but certainly something to consider in the future to bring more mdgardner.com goodies to matches.
And look, they choose my favourite colours, red and black for the uniforms! I KNEW they had good taste. :) Yes, I know, no shorts. Listen, THEY sign the cheque, they set the dress code. My wife does the same when I go out to special events with her. :)
THIS IS A GAS!
The Olympics are the biggest thing to hit Vancouver since Expo 86 and I enjoyed the daylights out of that. This event is not as long but you can feel the hum of Metro Vancouver as it kicks off today. The torch is just finishing its 45,000 km Canada wide journey and the last of the 12,000 Canadians to carry it is wrapping up today. The Torch Relay has definitely tied us together as a host country.
Mother Nature could have picked this year to show a bit more snow but you would be astounded at the ability of Vanoc to make snow at Cypress when brown seems predominant. It looks like a desert golf course where there are the beautiful green fairways and greens surrounded by sand. Here, the white snow is surrounded by green and brown. Still works.
If you don't feel a tug on your heart over this, turn in your Canadian Citizenship and go join Al Qaeda...OK, maybe I got a bit carried away there, but as a Canadian, it makes me beam with pride about my country.
I know that this event certainly ramps up my Canadian patriotism. Having represented Canada many times at international events and competed under our flag allows me to relate to the fantastic athletes we have representing us at this XXI Winter Olympics. The Canadian Maple Leaf is world recognized and this does even more to make the world know us. Wait until the World sees how many medals we win!
Business in BC will feel the impact after the World comes to our place and realizes the gem it truly is. That can only be a good thing.
During this period in February, expect delays in reaching me by phone and/or email. I will attempt to respond at the end of each day but I will beg your indulgence and forgive me if I am a bit late.
Once the Olympics are over, it will be time to start in earnest training for 2010. Matches are listed and we are shooting some Club steel matches in February to warm up. The Nationals are here in Metro Vancouver and, although not quite as big a deal as the 2010 Winter Games, they are certainly something that we all should attend. I will!
See you on the ranges,
Murray "DOC" Gardner.
---
blog: December 17
About that PAL you have...
I just received my renewal notice and found some interesting bits in there. As my goal is for us all to have as much good information as we can, please consider what I found in my attempt to reach that goal.
The form came to my home a good 90 days before my PAL is due to expire. Remember, ATTs will expire on your birthday as well, so that is another chore. My driver's license expired this year so that saved me a bit more work in one year.
The form is quite good. It is pre-filled out with all my info and I can note changes if needed. You should know that if you move and do not advise the Firearms Centre that you have moved, you are in contravention of the law. You and your firearms are registered and it is up to you to call and tell them, at 1.800.731.4000, that the move has happened. NOT 5 years ago, but when it happens.
The upside for renewals is the waiver of a fee. Yes, FREE! Of course, there is a cost to processing the forms, you just do not contribute directly to it. Be certain to thank all of your friends who are not pro-firearms for subsidizing your shooting sports. The renewal fee has been waived since May 17, 2006. Now, if we can get that long gun registry axed, we'll be another step ahead.
Anyway, I filled out the form, had my lovely wife sign off that life is good, got my mug shot at Costco ($7 and less than flattering). Off in the mail and we'll see how long it takes.
Remember that waiting and putting this off is a REALLY BAD idea.
You end up with no license plus you have guns that they KNOW you have, as they are registered. And, they know where you live...if you told them you moved. If you did not tell them, that just compounds your grief. :(
Once you have a renewed PAL, it will be time to consider buying a new firearm. That means you will need to see me for a calibre conversion for your Dillon press along with dies, etc. You KNEW it would eventually come around to business! :)
Watch for some new lines in 2010, most likely after February once the Olympics are over. Oh yeah, I have found a way to be involved in that and am very excited about it. Tell you more once it is over.
See you on the ranges,
Murray "DOC" Gardner.
---
blog: November 1
Season Wrap Up
The shooting season has finally wrapped up. With the exception of some exotic trips to maybe FL, AZ or CA, that is it until 2010. Those of you in REALLY cold parts of Canada with indoor ranges should be able to keep pulling the trigger but here on the Wet Coast, yes, Wet! :) it is time to drop back, start reloading and getting stock piled for 2010. Match schedules, reloading match and practice ammo (if you are not reloading, now IS the time to get that going), checking out new gear, sorting any gun problems and on and on. Never real down time, just different time to prepare.
It has been an interesting year. As I get older and have to adjust to vision and physical issues that, like all young bloods, I never thought I would have to entertain. Having said that, it ain't over and I do plan to make you watch over your shoulders for me:) Speaking of that, I have been working at overcoming something called "frozen shoulder". Try making a draw without being able to have full shoulder rotation. Might even have to think about draws being over a second:) NOT!
I am hoping to soon hear that my Open Division gun(guns are Divisions, people are Classes:) may be ready. It has been a while but I have started to stockpile ammo for it so I am ahead of that curve. Returning to a Division I have not shot since 1999 will be challenging. The decision of cartridge, gun, etc. has been fun as I have not done that for a few years. Once up and running I will keep you advised.
It has been a different year for products. Support from Double Alpha, CED, Dillon, RU Ready, CR, SmartReloader has been wonderful. The struggling global economy has made us all tighten up and make more effort to stretch our dollars. I am grateful to all of you who continue to support my business with your legal addiction.
Finally, 2010 looks as if it will be the recovery year and I am looking to shooting at least as much if not more than in years past. Join in and keep pulling the trigger.
See you on the ranges,
Murray "DOC" Gardner.
---
blog: September 18
What's Up, DOC?
I noticed that I have not done a blog since July. A lot has happened and more is about to happen.
First, although I had a disastrous Nationals, I managed to take the Super Senior National title ... again. :-) Thank goodness they have something for us OF's.
At our Provincials I started to use some special lens glasses to help see sights/target and so on and had a bit more success taking 3rd in the match and 2nd overall for the year which again puts me on the BC Standard Division Team. Listen, some of you younger BC shooters: Come on, get me off the team! Some of you are doing a great job and I am so very pleased at your success but really, between Randy Fisher and I, we are 115 years old! Having said that, I am very encouraged by the effort being made by some of the younger shooters. They are showing the dedication and effort to the sport that was my burn when I was there. Keep it up guys. I REALLY want to go to Open! :-)
When I do finally get an Open gun I will share my thoughts with you. This won't be my first time shooting Open but more of a re-awakening of a past activity.
Are you ready for 2010? What do you mean it is too early? I have already booked my IPSC Canada Nationals date, first week of August, here in Vancouver. You should, too. The Provincials are also plugged in and some Qualifiers and Club shoots. You don't "find" time to shoot, you have to MAKE time the same as you do with reloading. Yes, I am already starting 2010 ammo to complement the rest of the 2009 supply. If you don't want to be caught flat footed next year, start stockpiling now. You are aware of the shortages in ammo and components in 2009 and 2010 won't necessarily be better and it certainly won't be cheaper. 'Nuff said.
What about new products? Glad you asked.
The stereo electronic muffs have had been received wonderfully and are proving to be an outstanding product. I have added the camo green version as well and it is becoming popular. If you have a store or gun club that wants to buy them for resale, let's talk.
The Frankford Arsenal tumbler kit is quite the bargain at $99 as it includes EVERYTHING. It certainly keeps the overall price of getting started reloading down.
Prices overall are down a bit as the C$ holds its own against the US$. It is quite the nightmare for me trying to keep track of costs, etc. with the roller coaster ride of the C$ over the last while but it seems to be stabilizing which helps me keep the retail prices low.
As always, thanks to my many clients, old and new, who continue to support this site. It came about as a means to help shooters get not only good proven quality products but also to share my almost 35 years of experience so the shooting sports can flourish.
And finally, assume every firearm is loaded. Forget that and things get very hairy! :-)
See you at the matches,
Murray "DOC" Gardner.
---
blog: July 1
50,000 Visitors - Thank You!
WOW!
Over 50,000 visitors since this web page began in 2005. That's 12,500 a year and over 1,000 per month. I want to thank every one of you for your interest and for your business.
I have been at this game a long time and have watched as the trade and game have matured. In the way back days, you needed a store front and had to be there the 24/7 thing. Now, with the web, I can reach more clients and provide them with products and services such as we had never imagined when the Colt .45 ACP was the dominant IPSC gun.
Today's new guns and gear reflect the dramatic changes in the shooting sports in over 30 years. With the changes that are always coming, I have tried to find products that I use so that I can endorse them to my clients. If I won't use it, I won't sell it. Simple philosophy that seems to be accepted by my clients. That business model is working and I want to thank those who continue to make it work.
The new web page layout is thanks to my "Web Goddess", Tracey Martinsen, who is also a damn fine pistol shot and further proof that women can be better shooters than they, or most men, think. She is always keeping the pages tuned up and looking after the web stuff so I can look after you, the clients.
I hope you find the new products of value and interest and that my web pages keep you coming back to move you to success and enjoyment of safe shooting.
Best wishes to everyone of you,
Murray "DOC" Gardner
---
blog: June 10
Improved Electronic Hearing Protectors!
$65
Always on the outlook for better products for my clients, I have now added a more improved electronic hearing protector. (The old, larger version is no longer available.)
If you haven't had a pair of e-muffs before, you owe it to yourself to give them a try.
These new units are smaller and have STEREO sound adjustments. As well, they come in three colours to coordinate so we not only shoot good but we look good:) I'll be wearing the red ones, of course.
When worn properly and given adequate care, this sound muffler provides excellent protection by filtering out high frequency noise caused by machinery, motors, saws and gunfire.
These specially designed over-ear hearing protectors not only protect your hearing but also allow you to hear normal conversation, range commands, and even the sound of game in the woods. The SR112 features an electronic amplification mechanism that clarifies low pitch sounds, but shuts down within milliseconds when sounds above 85dB occur.
Great Deal on Regular Hearing Protectors!
$25
For those of you who need good protection but don't want electronic hearing protectors, try these. They are slim line the same as the electronic but without the hardware. The price is very attractive and these units will give many years of valuable use.
CED Products Now Available at mdgardner.com
Range Bags
I have added the CED line of products. The first two that I think you will find interesting are the CED Professional Range Bag in colours including black, red, blue, navy and green. These bags sell for $85 each.
Timers
I also have the CED7000 timers for $165.
The CED7000 Shot-Activated Timer is truly a breakthrough in technology. No other timer to date offers this combinations of advanced features, compact size and lightweight. This is truly the "next generation" Shot Timer here today!
Watch for more CED products soon.
Dealers, you will find some margin when you carry these items.
More new products are coming, visit this page often.
See you at the matches,
Murray "DOC" Gardner.
---
blog: April 12
New Rules for 2009
IPSC Canada has finally had to come up to speed with the rest of IPSC and made the box with mag inserted rule affective by the end of July 2009, in time for the Nationals in Halifax NS.
To that end, those of you who have been using the 10 shot .45 ACP mags in single stack will have to make the adjustment. The double stack STI crowd also have to step up and make their guns/mags fit the box. Bye-bye big mag pads and blocked long mags! :(
And, as always, mdgardner.com is at the forefront of helping you.
For the single stack crew, I have in stock MecGar stainless steel 8 shot mags with a bumper that fits mag wells and the box rule. Only $39 each, taxes and shipping, of course, extra.
Those of you with double stack mag STI guns, like me, have to make changes as well. I have the altered mags that work but trying to clean them between stages is brutal! If you do get the followers out, putting them back in is a challenge before the next stage.

To make this go away, I am now using the good old 10 shot only dented side 126mm STI mags. A bumper is easy to find that comes off quickly for cleaning. As well, they go into the box easy as pie. They are $80 each.
Both of these are high quality reliable products, what else would I sell you? :-)
See you at the matches,
Murray "DOC" Gardner.
---
blog: January 29
Double Alpha Now in Stock
I am now carrying Double Alpha products. Last year I started to using and testing their belts, mag pouches and other products. They more than met my expectations and their prices are VERY competitive.
For a limited time, here are some special prices as an introduction to the product line.
DOUBLE ALPHA BELTS
$60
These belt sets are an industry standard. Mine have been used and appear almost as new less some range grit:) The inner has a tip that allows easier fitting to belt loops and the velcro attachment is very strong.
MAG POUCHES
$45
Mag pouches are hard to get excited about but these managed to do that for me after over 30 years of working with many varieties. What I like about these fat mag mag pouches is the adjuster. They are simple to use and don't find their way to the range floor when you aren't looking. Also, the fit to the belt set is wonderful. No slop and a tight fit.
MAGNETIC MAG POUCH
$44
Oh yeah, gotta have at LEAST one of these for those "leave the mag on the table and pick up and load..." stages. With a bunch of those at the nationals, these proved to be a second saver. I use one in the #2 spot and it holds two. A solution for "Where do I put my stripper mag?" that has plagued us for years. And they DO hold very tightly.
GREAT BOOKS
$38
The Mental Question is not What the heck am I doing? No high tech reading skills involved. Just drop it into the DVD player, hit play and watch your scores rocket up to Grand Master...well, maybe not QUITE GM but it can't hurt ya!
for either book $33
Perfect Practice and Thinking Practical Shooting
For those of you who have mastered the fine art of reading, these are great books. Everyone should know by now that practice does NOT make you perfect. Perfect practice makes you perfect and this book will lead you in that direction.
I hope this is the nudge you need to start getting ready for 2009. Only 11 months left and decreasing. Before you know it you will be shooting a match.
See you at the matches,
Murray "DOC" Gardner.