---
September 17, 2012
Migration Match Report
As a member of TMSA, I hope to be able to provide members, and others, with information that I learn about the Club that I feel will be of value to all concerned. My goal is to provide another means of communication to the firearms community.
Enjoy and send me your thoughts to doc@mdgardner.com on what you might want me to include in the future updates.
---
MIGRATION MATCH REPORT
Sunday, Sep16.12
Every match day has greater depth than just that day. Alastair Hesp and I volunteered to do this match last Spring and were thrilled to see such support for our efforts.
The match design was drafted to follow my personal standard: I should be able to set it up by myself if no one else shows up to work. I have found that very sound reasoning over the last 35 years of doing matches.
Prior to the match, many people stepped up to help: Robert C took on stats and the fun that entails; Keith K kept us stocked with match gear such as boxes, timers, batteries, score cards, pasters, etc; Dana K sorted us out on other materials as well as access to various equipment; RW Mike V for not just access but guidance on Club processes; setup help from Brent L, Ian and Lorna H, Scott L, Jim(don't remember his last name, he came up to take out a membership at my suggestion that day and I roped him into helping for a bit:)) and Randy F. If I missed your name, I do apologize and will correct this if you remind me, thanks.
I had stapled all the targets prior to setup day and the RO boxes were on hand to prep for that match up.
On match morning Dana arrived at 7am to open the gate. I started to set up targets and had this helper give me some direction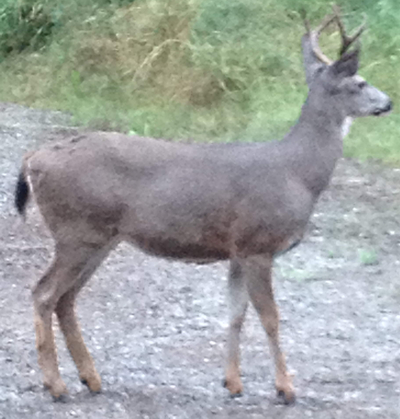 All the ranges were set and shooters started to arrive just before 8am. The grand total was 47 by the time the smoke cleared, well done and thank you!
Lots of activities take place at a match. Here a few pictures of them.
Some shots were easy
Others at 25m, not so much
All A's you say?
Lots of standing around waiting to have safe fun
Just how many people can you get in that trunk?:)
Somebody has to patch them
With registration over at 9am, shooting started. It finished and tear down was completed by 1:30pm. With 47 shooters, that is very well done. Alastair and I want to say a special thanks to everyone who helped make the end of the match easy and simple.
Rob C took on the task of stats and found the learning curve to be relatively simple with telephone support from Chris Y. There were a few hiccups w/stats but with help from Clint on the IPSC BC page, that was resolved. Bruce, Rob and I sat down in one of my satellite offices after and uploaded the results, another learning thing with Chris again saving our bacon by phone. The results were up before 3pm on the IPSC BC page and now here on DOC's TMSA BLOG. Watch for more of that in the future.
Here are the results: Migration Match Overall Results.pdf
The winners will receive cheques for their wins in the form of a cheque from the Club. I will contact the winners at the end of September to make arrangements to get your cheque to you.
For those of you wanting to see some video, go to my YouTube channel, mdgardnerdoc. I will get around to that soon. If you want to see some videos and stills sooner, email me and I will send you an invite to DropBox for the raw footage and stills.
Finally, Alastair and I want to thank everyone who came for supporting our sport and Club.
See you on the ranges,
DOC