&nbsp
---
Handgun Training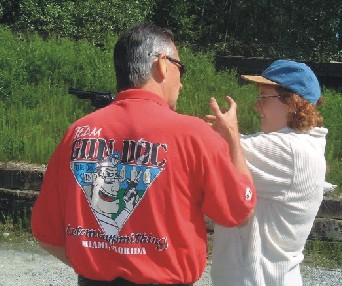 If you wish to learn about handgun shooting, I can provide a program for you even if you have no knowledge of handguns. Prior to booking your lessons, you will need to have taken and successfully passed both the Canadian Firearms Safety Course (CFSC) and the Canadian Restricted Firearms Safety Course (CRFSC). This assures both you and I that safety is our priority and we have established a base of knowledge.
In your first lessons you can learn to shoot both revolvers and semi-automatic handguns. By starting with rimfire ammunition we can progress through to the point where you will be able to successfully shoot a large bore centrefire handgun and hit your target. As your skill levels progress, you may wish to move into formalized target shooting, in the form of one of the many handgun shooting sports operating today. I can lead you to those sports and help you to succeed.
New shooters who want to buy a gun often don't know what make, action or cartridge will suit them. Sometimes a shooter will think they know what want, based on a couple of minutes with one that "felt good." In a lesson, you will have an opportunity to learn about a variety of firearms. We can discuss the strengths and weaknesses of each one with special attention to your area of interest, ensuring that your first purchase is made knowledgeably.
If you are a more experienced handgun shooter, up to those who wish to compete in International competitions, I can provide solid coaching for you as well. As you may have found in my bio, I have an extensive career in handgun competition, instruction and coaching which have led to my successes in handgun shooting. You can access that knowledge by booking shooting lessons with me.
If you are particularly interested in my sport, Extreme Pistol (IPSC) shooting, see my Competitive IPSC packages for more ideas.
Contact me at 604.889.3822 or by email: DOC@mdgardner.com.
---
IPSC Training Packages
Competitive IPSC Training Package
When the RO says Are You Ready... are you? Consider investing in a 3-lesson package that assesses and develops your current abilities.
I will use proven training tools and exercises to build your skillset and increase your confidence at matches. Between lessons you will complete training exercises on your own and compete in club matches or IPSC BC Qualifiers.
Learn how to adapt your performance to earn your best results ever! Contact me at 604.889.3822 or by email: DOC@mdgardner.com and plan for this to be the year you attain your IPSC goals.
---
Competitive IPSC Tune-Up
A lighter version of the full package, the Tune-Up is a one hour session that helps you work on one or two specific areas. A single Tune-Up session can be converted to the full Training Package if you so desire.
Contact me at 604.889.3822 or by email: DOC@mdgardner.com.
&nbsp